As a parent, you want the best for your children, including ensuring their physical and emotional well-being and academic and social success. One way to support these areas is by taking your child for regular eye exams. Pediatric eye exams are comprehensive evaluations of a child's vision and eye health performed by an optometrist or ophthalmologist.
These exams help identify and correct any vision problems early on before they can cause permanent damage or affect a child's ability to learn and function. Book an appointment for your kids' professional pediatric eye exams and care at Andrew Stone Optometry in Columbia, MO, for healthy sight development.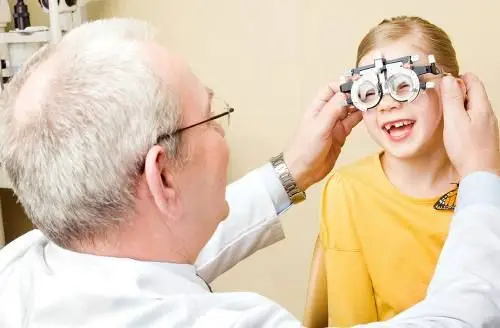 Detection of Hard-To-Notice Vision Complications
Over 450 million children worldwide have a vision problem requiring treatment, while 1 in 4 children live with undiagnosed vision issues. Though you may notice some signs of vision problems in your child at times, many others go undetected, as children may not always be able to articulate that they are having trouble seeing.
Pediatric eye exams can help detect several eye health problems, such as cataracts, glaucoma, and retinal disorders. These conditions are not always obvious and can lead to serious complications if left untreated.
Proper Learning and Development
Vision plays a crucial role in a child's ability to learn and develop. Children with vision problems are more likely to have difficulties in school and may even be misdiagnosed as having learning disabilities. Regular eye exams can help ensure that children do not miss important educational opportunities.
They also boost sports eye safety in children who participate in sporting activities. Vision problems such as strabismus (eye turn), amblyopia (lazy eye), or high refractive error can increase the risk of eye injury during physical activity. A comprehensive eye examination will not only detect these problems but also help to prevent them.
When Should You Take Your Child for Pediatric Eye Exams?
It would be best if you took your child for a first comprehensive eye exam by an ophthalmologist or optometrist at the age of 6 months. Infants and young children can also develop vision problems that may not be obvious but can lead to serious complications if left untreated.
After the initial exam, you should take them for a follow-up exam at age three and before starting school and have them examined at least every two years after starting school. Children with risk factors such as a family history of eye disease or signs of visual problems should be checked more frequently, as recommended by their eye doctor.
Protect Your Kids From Visual Complications Through Regular Eye Exams
Pediatric eye exams are essential to a child's healthcare routine. They help to ensure that children's vision and eye health are properly monitored and that any issues are detected and treated as early as possible. Regular eye exams help the child see clearly, learn effectively, and stay safe while growing. Contact us today to book an appointment to access our professional optometry services in Columbia, MO.